July 27, 1972 ~ July 4, 2000
A CELEBRATION OF A LIFE
Each one of us remembers Carl in our own way. Some of us knew him his whole life, some grew up with him, some got to know him later, but all of us were important to Carl and significant to him as he strove to become the person he ended up being. He was, to us, a son, a brother, a fiance-to-be, a good friend, a teacher, a mentor, and much more.

Like all of us he had his faults and his difficult times, but they only strengthened his character. And he became a better teacher and mentor because he learned from these life experiences. He loved to learn - a sign of a good teacher - whether it was learning Italian or learning how to create a web page or simply learning from a friend's advice. His mind was truly open. Who else could appreciate Metallica and opera? Or Stephen King and poetry?

His interests were extreme, attesting to his open mind, and he found how to make them work together. This was evident when he decided to work for Spring City Cycle. Biking was his love and it was difficult to teach full time and pursue biking seriously. So he combined the two and taught what he knew about bikes to others at the shop - employees and customers alike.

We are all put on this earth to learn and to improve ourselves, and our individual experiences, good and bad, facilitate that learning. I think it is incredibly difficult for most of us to achieve all that we want to learn in our lifetimes. No one can profess to know if Carl attained his goal in his search for knowledge and self-improvement in his almost twenty-eight years, but I believe he was damn close.

This is a memorial to Carl, through photos, letters and compositions. We all have memories we would like to share and I begin with mine. If you would like to add something to this website, please click on "Contact & Contributions" for instructions. This site should be for everyone and by everyone that knew Carl. The more we share with each other, the more we can appreciate the whole picture of Carl's life.
~ Theresa Anne Takli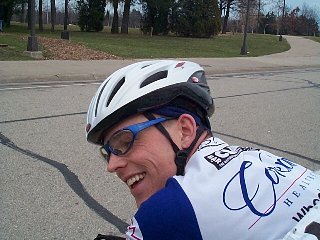 Happy The Man
Happy the man, and happy he alone,

He who can call today his own:

He who, secure within, can say,


Tomorrow do thy worst, for I have lived today.


Be fair or foul or rain or shine


The joys I have possessed, in spite of fate,


are mine.


Not Heaven itself upon the past has power,


But what has been, has been, and I have had


my hour.



- John Dryden
contributed by Erin Sura